Network Cable Installer Apprenticeship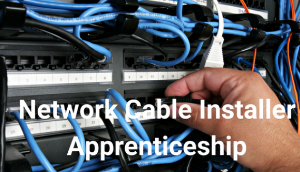 We thought it would be useful to provide a short update on the Network Cable Installer Apprenticeship. The government's changes to apprenticeships are making great strides in the move from apprenticeship frameworks to apprenticeship standards. We have continued to deliver the data cable engineer apprenticeship to structured network businesses but we are making provision for the impending move to the new network cable installer apprenticeship. It is not fully live yet but we expect it made available shortly.
Network Cable Installer Apprenticeship Standard
The network cable installer standard (but not the assessment plan) has now been published on the Institute for Apprenticeships website. This has provided us with an overview of the skills, knowledge and behaviour standards expected of a network cable installer. The core modules that engineers will complete are:
Copper Installation
Fibre Installation
Testing networks
Health & Safety
PASMA & IPAF
Street Works
The key change for apprentices is that there will be a formal endpoint assessment. At the moment, an apprenticeship is completed once all the elements of the framework have been achieved. However, the new apprenticeship standard is different as apprentices need to go through the formal endpoint assessment which is conducted by an independent body. Once this endpoint assessment has been published, we will be able to deliver this new apprenticeship.
What does it mean for the structured network industry?
This new apprenticeship standard has been designed by structured network businesses who have identified the skills, knowledge and behaviours required by network cable installers. On completion, the apprentice will also be eligible to apply for registration as a full member for the Institute of Telecommunications Professionals
Who will be able to do this apprenticeship?
This is straightforward – anyone. Existing engineers will be able to complete this apprenticeship and further develop their skills and knowledge of network cable installation. For structured network businesses looking to hire new engineers, it is a great way to train and develop new staff. We have noticed this year that more and more structured network businesses are requested school/ college/university leavers are there is a general shortage of trained engineers.
Engineer Progression Opportunities
We have recently released our Level 4 Network Engineer programme which is designed for engineers who want to take the next step in their careers. It has been written for engineers who would like to become more involved in the design, planning and management of installations. On this programme engineers will complete the following core modules:
CCNA
City and Guilds 3667-03 Design and Planning
CompTIA Server +
CompTIA Security +
PRINCE 2 (Foundation)
Need more information?
If you are interested in any of our structured network programmes then please contact us and we discuss your requirements.
posted 20 Sep, 06:49 (764 days ago)