Why should you hire an Apprenticeship?
There are many benefits to businesses employing apprentices. Apprenticeships enable businesses to grow their skills base resulting in increased profits, lower prices and better products. Apprentices want to do the job and investment by the business can bring huge returns. Being able to develop a young person with the skills needed for the business can only be a positive outcome. Apprentices tend to be loyal to the business that has invested in them.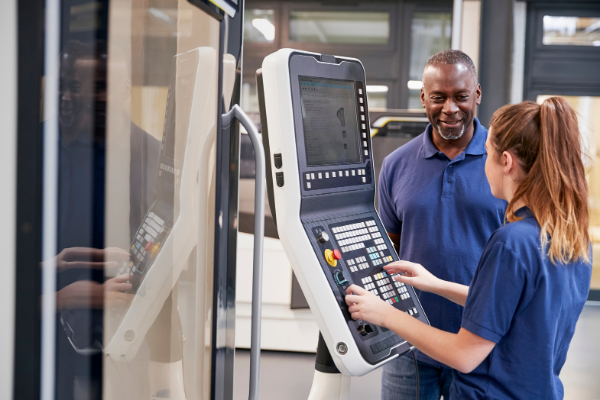 ---

96% of employers have experienced at least one benefit from taking on apprentices, and most can count at least 8.
67% of employers say that employing apprentices improved their image in the sector.

73% of employers say that staff morale is improved by having apprentices.

69% of employers say that employing apprentices improved staff retention.
---
Programme Choice
We work with all of our employers to maker sure they have the right programme for the business. If we do not cover a specific requirement then we will identify a training partner who can support you. We offer a range of programmes:
Network Cable Installer
Business Administration
Digital Marketer
Human Resources
Network Engineer
Team Leader
Operations Manager
Learning & Development
---
Recruiting a new apprentice
We have a really robust procedure to help you recruit an apprentice. Once we understand your business needs we will then begin the recruitment of the suitable candidates.
Our recruitment service is completely free. We will need a job specification and rates of pay and hours. Once we have this information we will then advertise and deal with applications.
We interview all suitable candidates. This is a really important part of the selection process. We want to make sure that you get the right candidates for your business.
We then provide you with the most suitable candidates for you to interview.
There is a very clear correlation between our recruitment process, the quality of the candidates and matching and the success of the apprenticeship.
Looking to develop employee skills and knowledge?
It doesn't matter how long your staff have been in their jobs or how old they are - apprenticeships are a fantastic way to develop their skills and knowledge.
Our friendly team of training specialists will be able to provide advice and guidance on training opportunities that will benefit the staff in your business.
Through an apprenticeship, employees can benefit from funded training that offers a range of qualifications up to Level 7.
Apprenticeship standards have been designed to cover all industry job roles and ensure that the knowledge and skills are delivered to enable your staff to advance.
Speak to our advisors today to see how we can help in finding the right funded courses for your business.
---
Frequently Asked Questions
How are apprenticeships funded?

There are two ways in which apprenticeships are funded:

- Apprenticeship Levy – For businesses that have a salary/pay bill over £3m

- Co-Funded Apprenticeships – For employers with a salary/pay bill under £3m

Employers with a pay bill of less than £3 million a year will not need to pay the levy. At least 90% of non-levy paying employers' apprenticeship training and end-point assessment costs in England will be paid for by the government. The government will ask these employers to make a 5% contribution to the cost, paid directly to the provider, and the government covers the rest. This cost will be spread over the lifetime of the apprenticeship. The government is offering additional support to organisations with fewer than 50 employees by paying 100% of training and assessment costs for their apprentices aged 16-18.
Who can be an apprentice?

In basic terms, an apprentice is aged over 16 and they combine working with studying to gain skills and knowledge which is specific to their job role and the business they are working in.

Apprentices can be new employees or existing members of staff looking to develop skills and knowledge and gain new qualifications.
How much are apprentices paid?

Apprentices are fully paid members of staff. They must be employed for at least 30 hours per week, have a contract of employment and must be paid at least the minimum wage for their age group.
How do we recruit an apprentice?

That's where we help. The recruitment process is one of the most important parts of the apprenticeship programme. It is vital that we find the right candidate for you and that you are right for the candidate. Once we have the job specification for the role we then advertise it on different platforms and work with candidates to shortlist for you. We send you a shortlist of suitable candidates for you to interview. You then go to your normal recruitment process to select the most suitable apprentice. We put a huge amount of effort into the recruitment process as this is the platform for success. We need to make sure that the candidate is a right fit for you and that you are the right fit for the candidate.