Interviewing Tips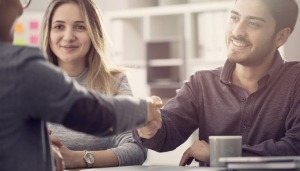 Have a read of this comprehensive list of the best tips and advice for preparing and during an interview.
Before Interview –
Quiz yourself with practice questions.
Thoroughly research the job role and company.
This should ideally be done a few days before your interview or when you send your application but go through your social media removing anything obscene.
Match your tone and use of language to the company. (Based on research)
Plan to be early.
Familiarise yourself with your application, cover letter and the job description before the interview.
Be prepared to discuss how you are suitable to the specific requirements on the job application post.
Prepare questions to ask at the end of the interview such as: 'Can you explain some of the day to day responsibilities?' 'How would you best describe the office environment on a typical day?' 'What are you hoping the company will achieve this year or within a year?' 'Does the team ever enjoy social occasions out of the office?' 'Is there anything that you would like me to expand on from before?' 'Is there anything on my resume or cover letter that you would like me to explain further?' Try not to sound rehearsed if and when you ask them.
Fresh breath.
Bring a pen and small notepad.
Dress appropriately. Just because the employees at the company are dressed casually doesn't mean you can turn up in casual attire.
Usually at the start of an interview the interviewer will say 'Tell me about yourself'. This is a golden opportunity to really sell yourself, on your terms. Feel free to dip into your family or hobbies a little here but focus mostly on points that will make you a desirable candidate.
Amongst how you should dress, your personal hygiene is also very important. Arrive at the interview clean, well groomed and odourless. Which means having a shower before the interview but also not dousing yourself with cologne or perfume.
Don't take a drink into the interview with you (unless it's one they offered you beforehand)
Turn your phone onto silent before you enter the room instead of powering it off completely. (You may quickly need it to add contacts or something)
Be prepared to fill in a job application when you arrive, so studying up on what was on your resume and the dates of your previous employment may be helpful.
During Interview –
Take your time to genuinely think about each question. Any interviewer would appreciate a well thought out answer over a rapid response.
Be socially polite and natural when you meet.
Match your tone and use of language to the company. (Based on impression)
Be yourself. The employer is just as keen to meet someone pleasant to work with as someone who will be valuable to the team/company.
Retain your interview composure from when you walk into the building and greet the receptionist staff and until you leave.
If you slip up on a question don't let it phase you.
It's always better to be honest if you're unsure of a question than to try and wing it. Ask them to rephrase their question first.
Remain professional when speaking about your employment history and colleagues.
Keep your answers focused and to the point.
Good body language – sitting straight, eye contact, handshake etc.
Make sure you are actively listening to what is being said.
Try to develop a connection with the interviewers. Perhaps something you have in common, which will make the interview more relaxed.
If you have a drink with you in the interview only have a sip when it's your turn to talk. Drinking while the interviewer is talking is not only rude but could distract you from what they're saying.
After Interview –
Sending a thank you message. One survey of 300 HR managers found that 80% of them found thank you messages either helpful or very helpful yet only 24% of applicants actually send one. This is therefore a great way to get an edge over other applicants. Typically email is the best way to send your thank you note. It should include how pleased you were to meet the interviewer/s and that you are thankful for their time and you look forward to hearing from them. It's important you don't make yourself look too desperate so don't make it an essay long. Just something short and snappy.
If all else fails and you finish your interview thinking it went poorly then you can send an email explaining that you think you poorly communicated how excellent you are for the job. Reiterate what it is that makes you perfect for the job and thank them for their time.
Final Note –
Thanks for reading these top interview tips and good luck with any interviews you have.
posted 20 Sep, 06:53 (735 days ago)